#71507 Knotty Lariat with Sterling Silver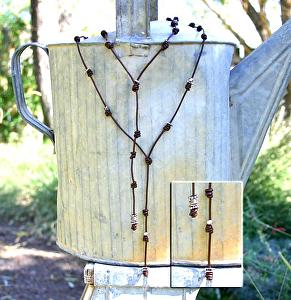 Price: $89.00 USD
Availability: Available

Click to zoom in
Contact the artist about this artwork
---
Artist Comments
Single strand of hand knotted Leather Cord with a mix of Sterling Silver Beads. Colors: Black or Brown
*Show together but sold separately.
Please contact the Artist with color when ordering.
This is a custom handmade item. If this item is not in stock, please allow up to 2 weeks for creation and shipping. Beads will vary with each piece.
Rendezvous West, created one at a time by the Artist's in our Colorado studio.