#102011 Elk Leather Belt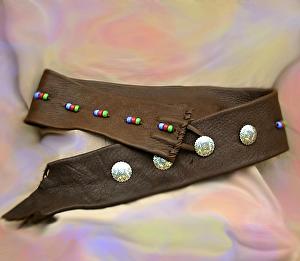 Medium: Elkhide Leather
Price: $229.00 USD
Availability: Available

Click to zoom in
Contact the artist about this artwork
---
Gallery Info
Wholesale information please contact:
303.669.4126
---
Artist Comments
Blue, red, and green glass Crow Beads are laced with a leather thong the length of the elk leather belt. US made German Silver concho buttons. Size: 2.5"
Artist: Deborah Shamah
Each piece is unique, however we can create one just for you, similar in design but with its own nuances. Shape of stone will vary.
Please allow 3 -4 weeks for delivery.
x-small 24"-32", small 28"-36", medium 32"-40", large 36"-44", x-large 40" - 48"