#101911 Elk Wrap Belt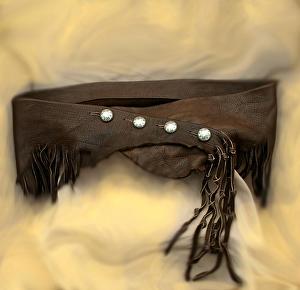 Medium: Elkhide Leather
Price: $359.00 USD
Availability: Available

Click to zoom in
Contact the artist about this artwork
---
Gallery Info
Wholesale information please contact:
303.669.4126
---
Artist Comments
Wear it over a skirt or dress, your favorite jeans, the options are only as limited as your imagination. Beautiful elk leather with German Silver concho buttons, knotted front fringe, hand cut fringe. Using the natural edge of the hide, each piece is as unique as the hide. We can create one just for you, similar in design but with its own nuances giving you a one-of-a-kind piece. German silver concho button style may vary.
Please allow 3 - 4 weeks for delivery.
Colors: Chocolate Brown (shown), Black, Buckskin
xx-small 30", x-small 32", small 34", medium 36", large 38", x-large 40", xx-large 42"
If you don't see your size please call 303.669.4126.
Back View
Rendezvous West, each piece made one at a time by the artist's in our Colorado studio.