#101611 Elk Leather Shorty Wrap Belt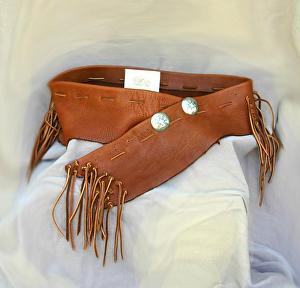 Medium: Elkhide Leather
Price: $299.00 USD
Availability: Available

Click to zoom in
Contact the artist about this artwork
---
Gallery Info
Wholesale information please contact:
303.669.4126
---
Artist Comments
Wear it over a skirt, a pair of your favorite jeans, even a pair of shorts if you dare! Beautiful elk leather with German silver concho buttons. Each piece is unique, however we can create one just for you, similar in design but with its own nuances.
Please allow 3 -4 weeks for delivery.
Colors: Buckskin (shown), Black, Chocolate Brown
xx-small 30", x-small 32", small 34", medium 36", large 38", x-large 40", xx-large 42"
If you don't see your size please call: 303-669-4126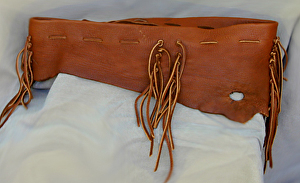 Rear View
Rendezvous West, made one at a time by the artist's in our Colorado studio.