53109 ~ Diamond Back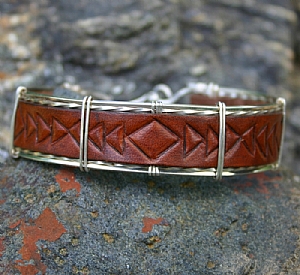 Medium: Carved Leather
Price: $245.00 USD
Availability: Available

Click to zoom in
Contact the artist about this artwork
---
Gallery Info
Wholesale information please contact:
303.669.4126
---
Artist Comments
Sterling Silver * Leather
Two Sizes Available: 3/4" x 6 1/2" or 3/4" x 8 1/2" Please specify size when ordering.

The Diamond Back design is sculpted around the length of the bracelet created from cowhide. Hand forged sterling silver frame, deer leather lining and a hook closure complete the design.

Artist: Deborah Shamah
Allow 3 weeks for shipment.