52909 Rendzvous West Barbed Leather Bracelet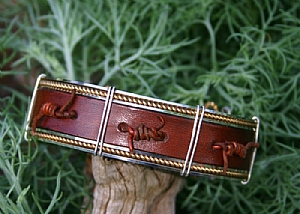 Price: $290.00 USD
Availability: Available

Click to zoom in
Contact the artist about this artwork
---
Gallery Info
Wholesale information please contact:
303.669.4126
---
Artist Comments
Featuring our Rendezvous West signature leather barbed wire. The faux rusty barbed wire is hand tied through the custom dyed cowhide band lined in deer leather. Sterling silver and brass wire are hand forged into a frame. Sterling silver hook closure. Size: 7"
Please contact the Artist's for custom sizing when placing your order.
This is a custom handmade item. If this item is not in stock, please allow up to 3 weeks for creation and shipping.
Rendezvous West, created one at a time by the Artist's in our Colorado studio.