#100812 Elk Leather Belt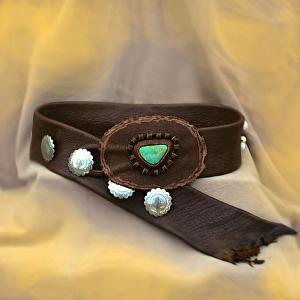 Medium: Elkhide Leather
Price: $329.00 USD
Availability: Available

Click to zoom in
Contact the artist about this artwork
---
Gallery Info
Wholesale information please contact:
303.669.4126
---
Artist Comments
Chocolate elk leather with hand stitched leather embroidery and natural bone beads, closes with German silver concho buttons. The buckle features a natural piece of Nevada Fox Turquoise surrounded with leather embroidery.
Stone will be unique with each piece - no two alike. German silver concho button style may change.
Please allow 3 -4 weeks for delivery.
x-small 24"-32", small 28"-36", medium 32"-40", large 36"-44", x-large 40" - 48"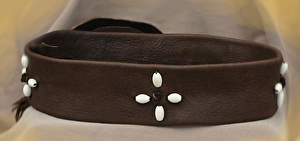 Back View
Rendezvous West, made one at a time by the artist's in our Colorado studio.