#71310 Waterfall at Turquoise Lake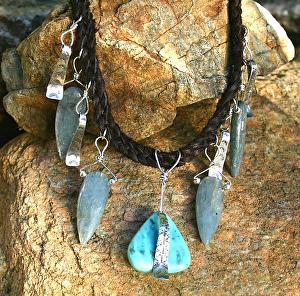 Price: $595.00 USD
Availability: Available

Click to zoom in
Contact the artist about this artwork
---
Gallery Info
Wholesale information please contact:
303.669.4126
---
Artist Comments
US Fox Turquoise ~ Labradorite ~ Sterling Silver

Turquoise Lake is located just below Leadville, Colorado. Once a booming silver mining town Leadville was home to the likes of "The Unsinkable Mollie Brown". Turquoise Lake gets is name from the turquoise mine that lies at the bottom of the lake. One of the tributaries that feeds the lake is a beautiful crystal clear stream that cascades over rocks creating mini-waterfalls in its decent to the lake below.

Graceful curves and stamped designs accentuate the hand forged sterling silver waterfalls. The hand woven cord of Espresso Elk leather closes with a hand forged hook and chain closure, adjusting from 17" to 19".

Rendezvous West, created one at a time by the Artist's in our Colorado studio.