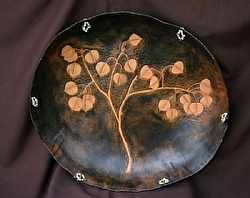 Simply Aspen ~ leather vessel
We're down to the wire getting ready for the Fine Arts Guild 36th Annual Fine Arts Festival this weekend. What a fantastic time to be heading for Estes Park, CO the gateway to Rocky Mountain National Park. Elk viewing should be good in the valley. The aspen leaves are beginning to display their brilliant autumn colors; shades of yellow and sometimes red. I call it Colorado gold. This is one of my favorite times of year. The sun is warm but the air is brisk. It makes you want to pull out your favorite sweater but its a little too hot still. What could be more perfect; viewing gorgeous art in a beautiful setting.

If you want more information on the Festival go to our Events page. Hope to see you there!


Comment on or Share this Article →
---